The objective of Emerging Issues Working Group is to identify and monitor emerging issues to forecast and predict possible food safety risks, and develop appropriate measures to manage the identified risks.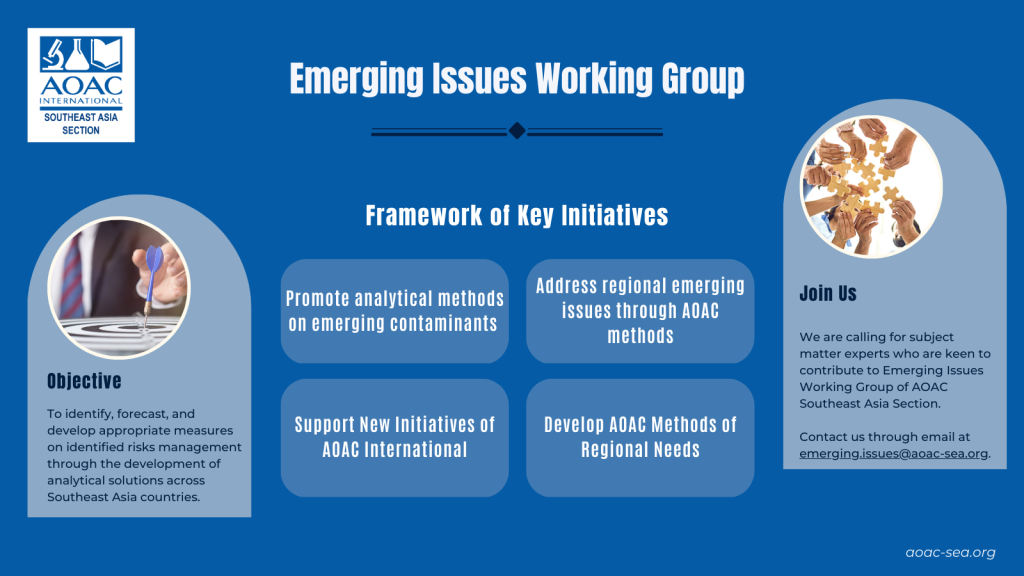 Please click on the tabs below to view our activities.
AOAC SEA Emerging Issues Experts Panel
Thank you to AOAC SEA members who have volunteered to be panelists via previous working group survey on the  Emerging Issues Subject Matter Experts Panel in one or more of the listed expert areas below:
Environmental/ Process Contaminants

Inorganic Contaminants/ Heavy Metals

Pesticides Residual Analysis

Mycotoxins/ Plant Toxins

Allergens

Food Authentication

Rapid Analysis Method/ Biosensor

Novel or Future Food
The scope and responsibilities of the volunteer panelist include participation in AOAC activities depending on availability, such as attending monthly working group meetings, contributing to content creation of the working group newsletter quarterly, contributing as a speaker of webinars or workshops on emerging issues quarterly, and representing the AOAC SEA section in the AOAC International Working Group when deemed necessary.
If you missed out on the previous survey while still interested to volunteer as an expert panelist, please share your interest by email to [email protected] by 10 Apr 2023.